Sleeps 6
2 Bedrooms
2 Bathrooms
Pets Not Allowed
$310 – $390 / night
Updated Luxury Completely Remodeled villa with a modern floor plan featuring a Gourmet Kitchen, Living Area with new furniture and a 49 inch 4K Smart TV, free wifi, dining for six guests, and a King Master Suite and Guest Suite, both with gorgeous new bathrooms and Smart TVs! Community oceanfront pool, BBQ grill area, indoor pool with free fitness center and two hours of free tennis every day!! Bike paths are seconds away and the ocean is right in front.
Reserve Online!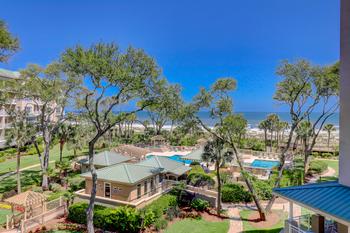 Sleeps 8
3 Bedrooms
3 Bathrooms
Pets Not Allowed
$242 – $555 / night
Updated Luxury Hampton Place 3 BR 3 BA Oceanfront Luxury Condo in Palmetto Dunes updated and remodeled with new stainless steel kitchen appliances, new tile floors, new living room furniture and LCD TVs. Kitchen, living room, dining area, breakfast area, master suite and guest room overlooks the ocean and pool with spectacular unobstructed views. Hampton Place has a fitness center, covered parking and community pool with a great location near the golf courses, tennis facilities and bike paths. One of the nicest complexes on the entire island, Hampton Place has it all, oceanfront and luxury condos.
Reserve Online!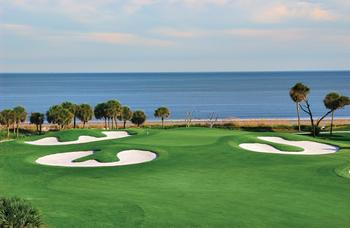 Sleeps 7
2 Bedrooms
3 Bathrooms
Pets Not Allowed
$110 – $200 / night
New Furniture! Updated! New Paint! Wonderful Pool Views in 2 BR 3 BA Water Oak condo in Palmetto Dunes. Walk to the beach, golf or tennis in Palmetto Dunes. Granite counters in the kitchen with stainless steel appliances. Community Pool. Master on main floor, open kitchen, dining area, three full baths and guest room upstairs. Nice condo for the money!
Reserve Online!
Sleeps 11
3 Bedrooms
3 Bathrooms
Pets Not Allowed
$199 – $395 / night
Nice 3 BR luxury Home with private pool and beautiful views of the lagoon. Big lagoon views, nice outdoor living space, open kitchen, granite counter tops, stainless steel appliances, hardwood floors, three large bedrooms and three full baths make this home a wonderful vacation spot for your family. Enjoy World Class amenities in Palmetto Dunes while only minutes to the beach, restaurants and shops.
Reserve Online!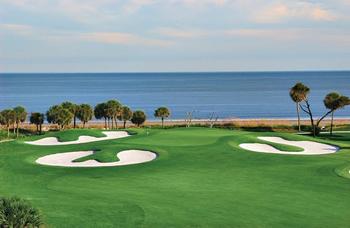 Sleeps 10
3 Bedrooms
3 Bathrooms
Pets Not Allowed
$150 – $220 / night
Updated luxury 3 BR condo in Palmetto Dunes right beside the pool end unit with updated kitchen, bathrooms, new furniture, new TVs and more. Luxury end unit 3 BR condo where you can walk out to the pool, bike to the beach, play golf or just relax on the back patio and grill out. What a wonderful location for a family vacation and plenty of room for everyone. Master Bedroom downstairs and two huge guest rooms upstairs. Four Full baths, one off living room and all other bedrooms have en suite full bathroom. Huge bedrooms and large living room with nice patio. Great vacation location in Hilton Head.
Reserve Online!
Sleeps 5
2 Bedrooms
2 Bathrooms
Pets Not Allowed
$100 – $150 / night
Wonderful Pool and lagoon views
Reserve Online!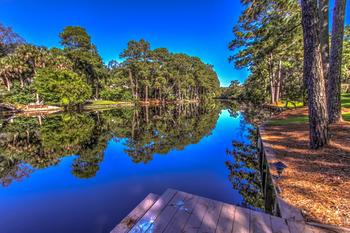 Sleeps 13
4 Bedrooms
3 Bathrooms
Pets Not Allowed
$214 – $450 / night
497 Captains Cove 4 BR 3 BA with water front views of 11 Mile Lagoon and only minutes to world famous Hilton Head Beaches. High ceilings and dramatic views and the features of the 4 BR Condo that sleeps 13 people comfortably. Free internet. Great location near restaurants, golf courses and bike paths, everything you need to enjoy Hilton Head Island. Two hours of free tennis each day are included.
Reserve Online!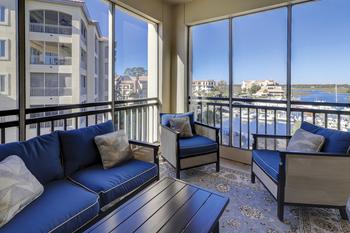 Sleeps 8
2 Bedrooms
2.5 Bathrooms
Pets Not Allowed
$170 – $255 / night
Spectacular Harbor Views! Updated and remodeled 2 bedrooms, 2-1/2 bath condo with spectacular harbor views in Shelter Cove. This condo is one of the newest on the Island, with breathtaking views from the screened in porch, where you can sit and enjoy the sunsets all year long and spectacular fireworks all summer. What a location to enjoy! A short walk to all that Shelter Cove has to offer, including dining, shopping, chartering a fishing trip, or renting a boat. During the season the Palmetto Dunes beach shuttle will pick you up, bring you to the Palmetto Dunes Beach club and bring you right back to your door step. Convenience is the perfect description for this location. Quality throughout the condo means you will enjoy the best the Island has to offer. The condo has updated and remodeled bathrooms, an updated kitchen, all new furniture, new carpets, and has been freshly painted.
Reserve Online!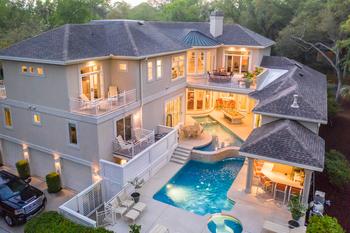 Sleeps 18
8 Bedrooms
7 Bathrooms
Pets Not Allowed
$1,000 – $1,720 / night
Luxury Vacation Home in Palmetto Dunes 3rd Row Ocean. Sleeps 18 people. Located right at the beach on 1 Brigantine, only seconds to the beach and only a few minutes to the golf courses and Dunes Beach house, the vacation estate has everything you need. 8 Bedrooms, private pool, hot tub, sun deck, gourmet kitchen, private bedrooms, private baths, living room, family room, TV room and sitting room, the home offers plenty of space to spread out on vacation. Walk to beach, golf, tennis, restaurants and bars in Palmetto Dunes Resort located on Hilton Head Island.
Reserve Online!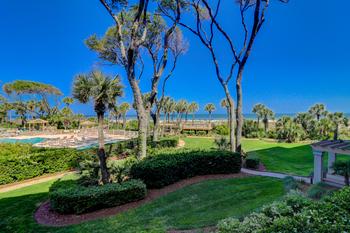 Sleeps 6
2 Bedrooms
2 Bathrooms
Pets Not Allowed
$220 – $314 / night
Spectacular Oceanfront 2 BR 2 BA condo in Hampton Place. Wonderful ocean views from the entire condo. Totally unobstructed views of the Atlantic Ocean and the pool. 2 bedrooms, king bed in the master and two twins in the guest room. Health Club free on site. Enjoy the views and enjoy the ocean. Golf packages available for this condo, call for details and pricing.
Reserve Online!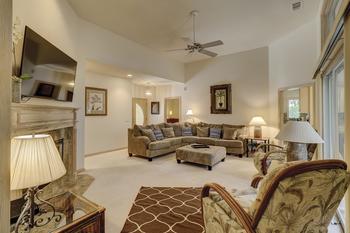 Sleeps 14
4 Bedrooms
3 Bathrooms
Pets Not Allowed
$2,000 – $3,000 / night
Walk to the beach! Located in Palmetto Dunes Resort with world class amenities. What a wonderful 4 BR home to sleep 14 people. 2 Kings 3 Queens 2 Twins and Foldout couch. Granite Counters in living room. Fully stocked kitchen. Screened in porch. Nice living room and great big bedroom for the kids to all sleep in. Flat screen TVs everywhere to relax after a long day at the beach. Sit in the screen porch with your favorite glass of wine or a book and relax on vacation.
Reserve Online!
Sleeps 7
2 Bedrooms
2 Bathrooms
Pets Not Allowed
$225 – $350 / night
This 2 bedroom 2 bath condo has been completely remodeled and updated. Located on the second floor this condo has courtyard, pond, pool, and ocean views. Wonderful location in Villamare, you can walk to the Marriott Resort for dinner and drinks, walk to golf courses and tennis courts. Great location in Palmetto Dunes and oceanfront property with oceanfront pool to relax and enjoy. Covered parking is great all year long. Elevators to each floor.
Reserve Online!
Sleeps 12
4 Bedrooms
4.5 Bathrooms
Pets Not Allowed
$475 – $950 / night
Wonderful Palmetto Dunes beach home with private pool. ONLY 2 Minutes to the beach!! Great location on 3 homes from the beach. 2 Hours Free Tennis Every day! Nice deck with wonderful outdoor living space to relax. Two King Beds with double master suites, Two double beds, Two Twins with fold out couch sleeps 12 people. Four bathrooms and four full bedrooms. Bike paths are right beside the home and there are three golf courses in Palmetto Dunes, a world class resort for the entire family to enjoy.
Reserve Online!
Sleeps 5
2 Bedrooms
2 Bathrooms
Pets Not Allowed
$100 – $150 / night
Nice condo near Shelter Cove
Reserve Online!